6 Hour Defensive and Point Reduction Course/Class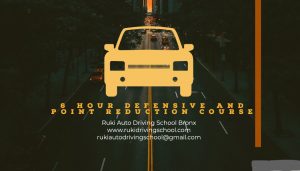 Ruki Driving School is fully certified by the State of New York to provide the 6 Hour New York Defensive and Point Reduction Course/Class. This class is offered to both Licenced Drivers and Learner's Permit holders who are looking to get a discount on their vehicle insurance premium and to reduce points on their licences.
The class is designed to refresh your driving knowledge with a view to making you an even safer driver by utilizing time-tested tips and guides, keeping in mind today's numerous vehicle and traffic laws designed to keep us safer if properly followed.
On completion of this class, a participant who is the principal operator of a motor vehicle may qualify for a minimum of 10% discount on the base rate of their liability and collision insurance auto or motorcycle premium that is good for 3 years from the date of attendance. Additionally, participants may also get up to 4 points deducted from any moving violations on their driving record that may have occurred during the preceding 18 months.
The 6 Hours Defensive Insurance and Point Reduction Course is currently offered at our Gunhill Road Location at the corner of Burke Avenue (1307 E Gunhill road, Bronx, NY 10469)
We will be observing strict social distancing guidelines as we will be giving in-class courses at 50% capacity following the New York State Department of Motor Vehicles Covid-19 guidelines. All participants will be mandated to wear protective face coverings.
The cost of this class is $60.00, and we suggest that this payment be made during registration before your chosen date of attendance of the course. For our esteemed customers' convenience, we accept payments at any of our offices.
We look forward to seeing you at our next class. For more details, please call our toll-free number at (877) 564-9446, and any of our representatives will be more than happy to assist you.